One of the biggest advantages of marketing going digital was the advent of easy lead generation. It changed the way businesses ran their sales teams, improved customer acquisition costs from the offline marketing days, and created a demand for lead generation agencies that specialize in improving the lead generation experience.
Let's summarize what we'll be discussing in this article on lead generation.
What is a lead?
Who needs a lead generation marketing campaign?
What is the process to acquire a lead?
And what mediums help you generate leads effectively?
How does UX play a role in lead generation?
What is the role of creatives in a lead generation campaign?
What are the challenges businesses face when generating leads online?
What infrastructure does a business need to generate leads efficiently?
Why is it important to have good CRM software before you start a lead generation exercise?
What should you expect from your agency when they're running a lead generation campaign?
Learnings and case studies from Admatazz's experience in lead generation
1. What is a Lead?
A lead in sales lingo is a potential customer. When a customer shows interest in your product or service they become a lead.
Now there are various ways to show interest. They can visit your website, and your offline store, contact you via call or email, chat, comment on your social handles, or even purchase a sample. Let's break down each kind of lead to give you a better understanding:
A. Contact form lead
The most common form of a lead in digital marketing. When a customer comes onto your web page or landing page and fills up a form. What you want the customer to fill up is solely dependent on your lead generation goals. When you're looking for high-value products to be sold you may want more than just contact details.
E.g. If you're a real estate brand you may want to know the budget. So that your sales team knows how to categorize them and which exact configuration of property you should sell to them.
Contact form leads are extremely valuable as someone has taken out the time and effort to fill up those details. They're also opting in to send you their contact details which means they are absolutely looking forward to a sales executive calling or emailing them.
B. Call Lead
These are one of the oldest types of leads. Since the era of outdoor and print advertising. In digital marketing, a call lead is encountered mainly when a potential customer is browsing through mobile and comes across a call widget. This can be on google, on social media, or even on the website.
Call leads are effective when genuine however you should be careful with the placement of the call widget as these can tend to attract junk leads as well.
E.g.: A hotline number for sales often encounters plenty of calls from job seekers. Hence careful placement and clear intent mapping is the key to lesser junk leads.
C. Chat Lead
This is one of the recent innovations of digital marketing and a good one. With the advent of chat interfaces like WhatsApp, Messenger, Instagram DM, and website chatbots, chat leads have become an extremely dependable form of quality as well as high volume leads.
Millennials and Gen-Z are averse to telephonic conversations and prefer chat. Not a surprise. So when it comes to enquiring about a brand, a product, price, or any other detailed information, they prefer initiating a chat.
Chat leads are great to enquire about everything as it connects you to an AI chat assistant or even a live agent. We've seen success rates shoot up, especially during high-value purchases with chat agents placed at important junctions.
E.g.: An e-commerce store for jewellery saw an instant jump in purchases after getting people to chat with the sales exec from the checkout page so that all queries could be solved before they end up paying big bucks.
D. Comments & Reviews
Comments on social media (even the negative ones) are low-hanging fruits to convert into potential leads. All you need is a timely response and some great copy. There are various software and tools that you can use as well to slide into the DM's of the profile that has just commented.
See this example below for one of our clients. While we can easily mention the price in the comments, getting a chance to DM the client enhances the personal touch and increases the probability of conversion.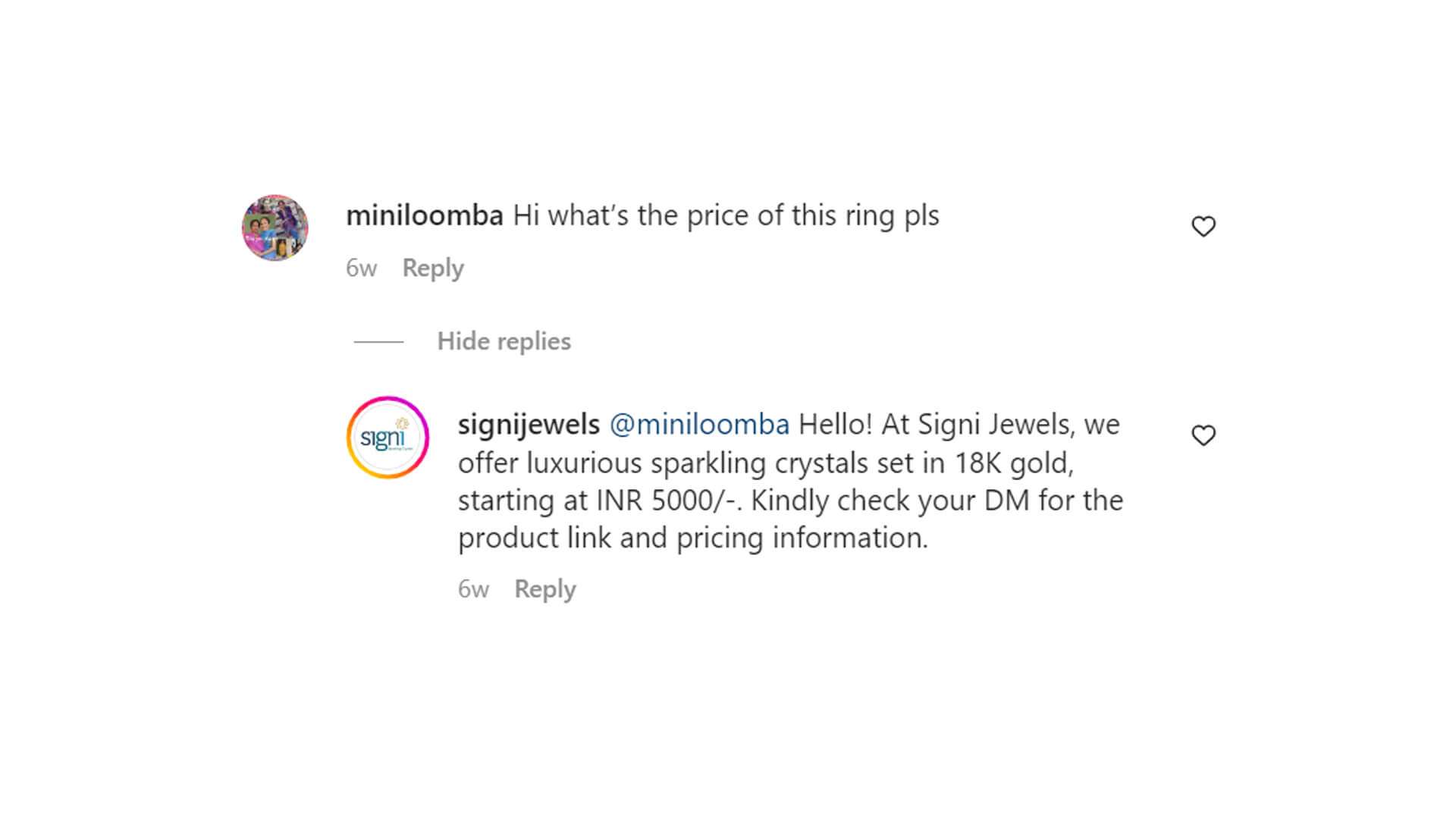 2. So.. who needs lead generation?
Answer: Everyone who needs business.
But to be more specific, the world online is divided into high and low-value products (amongst other segments)
The high-value products, especially in India are not easy to sell via an online interface only.
For example, a real estate brand will find it nearly impossible to sell houses purely through an online experience; however good it may be. Whereas an FMCG company selling washing powder need not ever interact with the customer offline and have all its purchases online.
Another useful segmentation that justifies investing in a lead generation campaign or not is complexity. This is seen in lower ticket price products.
A complex product needs offline intervention and explanation/demos from the sales executive. For example CRM software or a home automation system.
Whereas a non-complex product such as a credit card may not require additional explanations and people can directly purchase or apply for it online.
Below is a table of some of the industries that rely heavily on lead generation and the immediate proposition they provide for the customer to submit their details, or in marketing language – become a lead.
| Industry | Proposition offered to submit details |
| --- | --- |
| Real Estate | Site Visit/ Sample flat Visit |
| Education | Campus tour / Info session |
| Jewellery | Store Visit / Consultation with designer |
| Software | Demo / Handbook /Free Trial |
| B2B Products (e.g. Pharma) | Free Sample |
| Automobile | Test Drive/Brochure |
3. What is the process to acquire a lead? And what mediums help you generate leads effectively?
So this is how a usual lead acquisition process takes place. A potential customer comes across your content/listing/website online. This can be either through an organic listing or through a push via paid marketing.
Once they see the content and are intrigued but what you have to offer they look for a form/number/chat widget and leave their details or call / chat wherever required.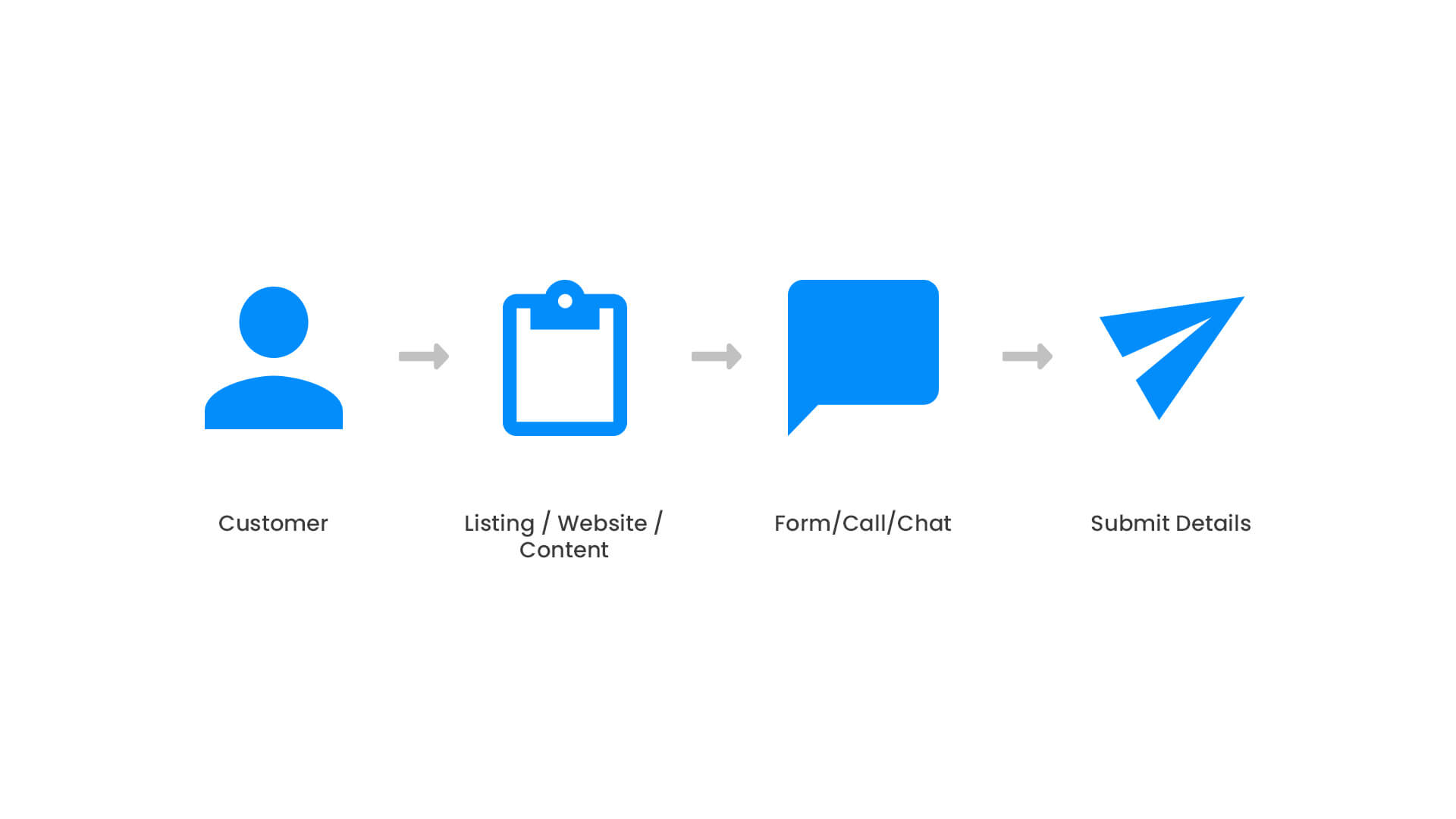 While there are a tremendous amounts of mediums online to generate leads online, We have covered the most important ones below: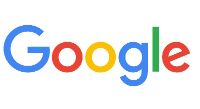 (and other search engines)
The world and its cousin use Google to look for something they want. The best place to find high-intent potential customers.
There are three major ways to get leads through Google:
A. Search Engine Optimisation
The science of getting your website to rank on google when someone searches for something using keywords relevant to what you're selling.
E.g Search keyword – Software to manage customer data
Your product – A CRM software.
The key is to identify a set of keywords that have the right intent and good enough search volume. An agency, such as ours, then goes on to create a website structure and content that demonstrates expertise, authoritativeness, and trust. This ultimately leads to better ranking and audiences discovering your brand via search engines such as Google. Once the audience is on your page browsing through the content on your website, they look for a form, phone number, or chat widget. Once they leave their details behind or connect. The process of lead generation is complete.
B. Google Ads
While SEO is a great way to generate leads, it's not always feasible in terms of timelines and choice of keywords. That's where google ads come in.
Shortlist keywords —> Bid for them —–> Create great copy—–> Get the users to click on your ad and visit your landing page —–> Ensure your landing page has a great experience—-> Collect details.
While this is one way to generate leads on google the other popular one is a Call Ad. In this type, the customer directly views the number on the ad and just needs to click to call.
We have seen call ads work extremely efficiently in the BFSI and Automobile sectors. Whereas we have seen tremendous success in the education and real estate industry via form fills on the landing page.
C. Google My Business.
Listing your business on Google is a great way to show the legitimacy of your business, get discovered on google maps, and interact with genuine customers. If you're a local store, it's a great way to get the cash registers ringing. Customers can connect via email, calls, and even physical visits via GMB.
We've often found local stores generating high-quality leads and sales through this medium. Since google gives preference to the location here, it's a good chance to beat the big brands in search results.
E.g If someone's looking for "Salons near me" No matter how big a brand is, a local shop will show up first if it's closer to the user and all business details are filled up correctly.


(Facebook and Instagram)
Meta (formerly Facebook) is one of the best ways to generate leads online. They have mastered the interface for lead generation and the entire process is extremely simple for a user from viewing the ad to submitting details.
While there are organic methods to generate leads on Meta, we'll stick to the paid ones in this segment.
There are various options available for an advertiser when it comes to lead generation on Meta. While the targeting and placement (story, feed, reels, only Instagram or only Facebook) options are unlimited, let's talk about the lead generation options:
A. Website Traffic Ads.
Generate traffic to your website page, let the audience land on a specially developed landing page relevant to the campaign you are running, and optimize until leads convert at the right cost.
B. Meta Lead Forms
When Meta realized advertisers are using the ads for lead generation they worked a smart solution by introducing native forms. These are forms that open up on Facebook or Instagram itself and do not require the user to go to the website. The advantage is that the basic information like name and contact details are pre-filled. But there is a disadvantage as well. We've covered that in a later segment below. In just a few clicks the user is able to submit their details, and you get to download the leads from your ads manager backend. However to avoid manual and laborious downloading of leads multiple times a day we use lead sync.
C. Click to Chat ads
Meta has optimized ads for a chat as well. It's extremely advantageous especially when they have their Instagram and Facebook messenger interfaces and have also acquired the chat capital of the world: Whatsapp. These ads enable the user to click and open up a chat interface directly. As an advertiser, you can automate the chat as well to reduce human intervention. We've seen magnificent results for high-priced/ticket products with chat ads. As WhatsApp is extremely popular in India, people who are not comfortable with technology, in general, find it easier to chat with the brand and purchase thereafter.

Linkedin is another social media with excellent lead generation capabilities, especially for B2B leads.
In fact, we have often found success in B2B leads on LinkedIn in terms of quality. When it comes to B2C, LinkedIn has its limitations as the audience doesn't spend time on the app with the intention of being a consumer.
Why does B2B work well?
It's simple: The amount of targeting options available on Linkedin is extremely granular and audiences can be targeted with extreme precision.
E.g We can target senior managerial level profiles of just one particular industry in one particular city as well.
A Few pointers to keep in mind:
Linkedin lead generation works out to be more expensive than other platforms, more often than not.
Due to this, it takes slightly more time to stabilize and generate the optimal amount of leads.
Creatives for Linkedin should not be mere adapts of the other platform creatives.
We would suggest an overall tweak in copy and layout as the reason for being on Linkedin is extremely different from Instagram or Facebook.
4. How does UX play a role in lead generation?
As an advertiser depends greatly on form submission for lead generation, user experience becomes extremely important to the process. It helps to have a professional create a landing page for your lead generation campaign as a few mistakes or placement errors can be extremely costly. Imagine optimizing your campaign targeting and creatives as well as spending a big budget just realizing that your landing page has failed to let the user complete the process of filling in their details.
These are a few pointers you should keep in mind when making a landing page for lead generation:
A. Extremely persuasive copy.
Explain to the user from the first scroll onwards what they're here for and what will happen if they fill up the form.
E.g Take a look at this screenshot of a landing page that we created for a past campaign.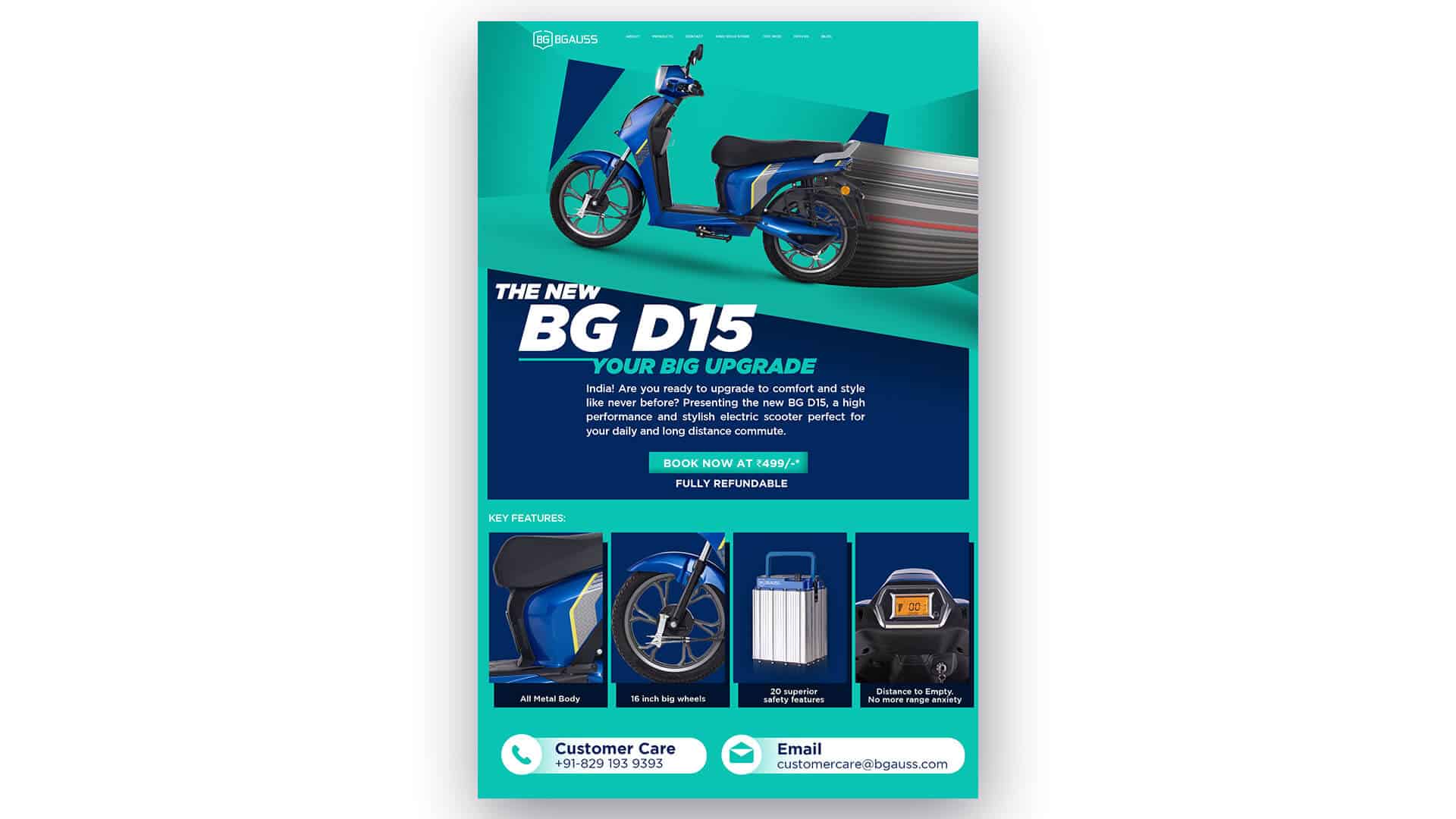 B. Ask only what's relevant.
Work it out with your sales team to understand what details they need and ask only that. Don't overdo it with the form fields. This may lead to dropouts.
C. Build Trust
People don't fill up forms and hand over contact details to sketchy websites and unknown brands. Have a few customer testimonials or a quote from the senior management (with an image, human images always help) below the form to reassure the user that you are a legit brand.
D. Load fast, very fast.
Today's digital users have an extremely short attention span. One thing that's shorter than that is their patience. If you make them wait beyond a second or two to load a page, say goodbye to your potential lead.
E. AB test, always.
If you're new to lead generation or running an ad in your category for the first time. A-B Test. Create two landing pages with differences such as the number of form fields, image placements, etc. Check what gets you more leads with a lower CPL and scale up only that landing page.
F. No distractions.
Keep your landing page free from distractions, annoying pop-ups, multiple choices for users to navigate to, or even chatbots that pop in between. A small distraction and you have a high chance of losing your customer.
5. What is the role of creatives in a lead generation campaign?
Creative is the reason why users will contact you or fill up details to be contacted. It's an extremely important aspect and often overlooked. Earlier any kind of creative delivered decent results. Now, with the kind of competition and the sheer number of brands fighting for ad space in the same category, it gets extremely difficult to scale without good creatives.
The most important factor of a lead generation campaign is the CPL (cost per lead) of it. Now if your targeting is right and your landing page is perfect then it's great. But a bad creative will reduce CTR (click-through rate – the number of users who click to the number of impressions of your ad). This means you're getting charged for the same 100 impressions whether 1 user clicks or 2. With a low CTR, you increase the cost of your overall lead. A good, thumb-stopping and persuasive creative can increase your click-throughs and result in a much lower CPL.
We recommend that as an advertiser you keep the following in mind when making a creative for your lead generation campaign:
Keep the proposition clear. Let people know what they are going to be submitting a lead for.
Keep the copy crisp.
Keep the visuals real. Try not to use stock images and use real images wherever possible.
While reels and bite-sized videos are the new craze, they are still not as effective as a good old carousel format or a regular video ad when it comes to lead generation specifically. However, keep testing your formats and scale up the ones that work well for your campaign.
6. What are the challenges businesses face when generating leads online?
While it has a host of advantages, lead generation campaigns come with their share of challenges as well. It's important to identify these at an early stage of your campaign and optimize accordingly.
A. High CPL
Campaigns take time to stabilize. Especially on Google and Meta. They can start out with extremely high CPL and need to be optimized to lower it week on week.
Optimization can be targeting-based, creative-based, or even landing page optimization.
For example: On google, we highly recommend you check your search terms on a daily basis to ensure you're getting clicks with the right intent. Keep negating keywords with the wrong intent to avoid waste of click money.
If you can't afford to spend more than a certain amount on a lead, try capping the lead amount. However, ensure a sufficient budget is allocated to the campaign to get out of the learning phase. Or else you will not see true results.
B. Junk/ Low Quality leads
This particular problem has been the bane of the lead generation campaign world.
"My sales team is saying most of the leads said they did not fill up the form, or hang up when they hear from us"
This is quite a common issue. And can occur due to various reasons such as:
Poor Targeting
When your targeting is wrong it may get your form fills, however, they won't respond to your sales calls. It's important to ensure local filters are used especially for a product you're selling offline. e.g. ensure the radius is set in the targeting to the locality you want to sell to only.
Only using pre-filled forms (no effort required to submit the form)
When a form is prefilled and the user doesn't have to stretch their mind to do anything else but hit submit, they will do just that. In fact, a lot of users who open a form by mistake will hit submit if they are not able to exit the form easily. This leads again to junk leads and low responses.
Extremely misleading creative
Try to avoid stock images for models, exaggerated claims, and unrealistic situations in your ads. While people fill-up the form, they are hit by reality once your sales team calls and then you lose them forever.
Delay in establishing contact
Don't waste time once your lead has been submitted and reflected on your backend. Call them instantly. Customers are constantly being targeted by your competition and when they're in the consideration stage of a purchase, they're evaluating various opportunities. This means they're filling out a lot more forms and if you reach out to them late you can miss the bus.
Customers also get excited when they see an ad but if the call is made to them a couple of days later they tend to forget or something more important takes place for them to focus on your proposition.
Hence: Connect immediately. There are various tools that we will talk about below that you can use to connect with them through your CRM.
C. Disconnect between sales and marketing team
This problem is probably as old as time itself. You may generate leads at extremely low CPL, however, your sales team isn't able to convert them into customers. In this case, you need to get your sales and marketing team to talk regularly and understand what the leads are actually saying so that further optimizations in targeting and creatives can be made.
7. What infrastructure does a business need to generate leads efficiently?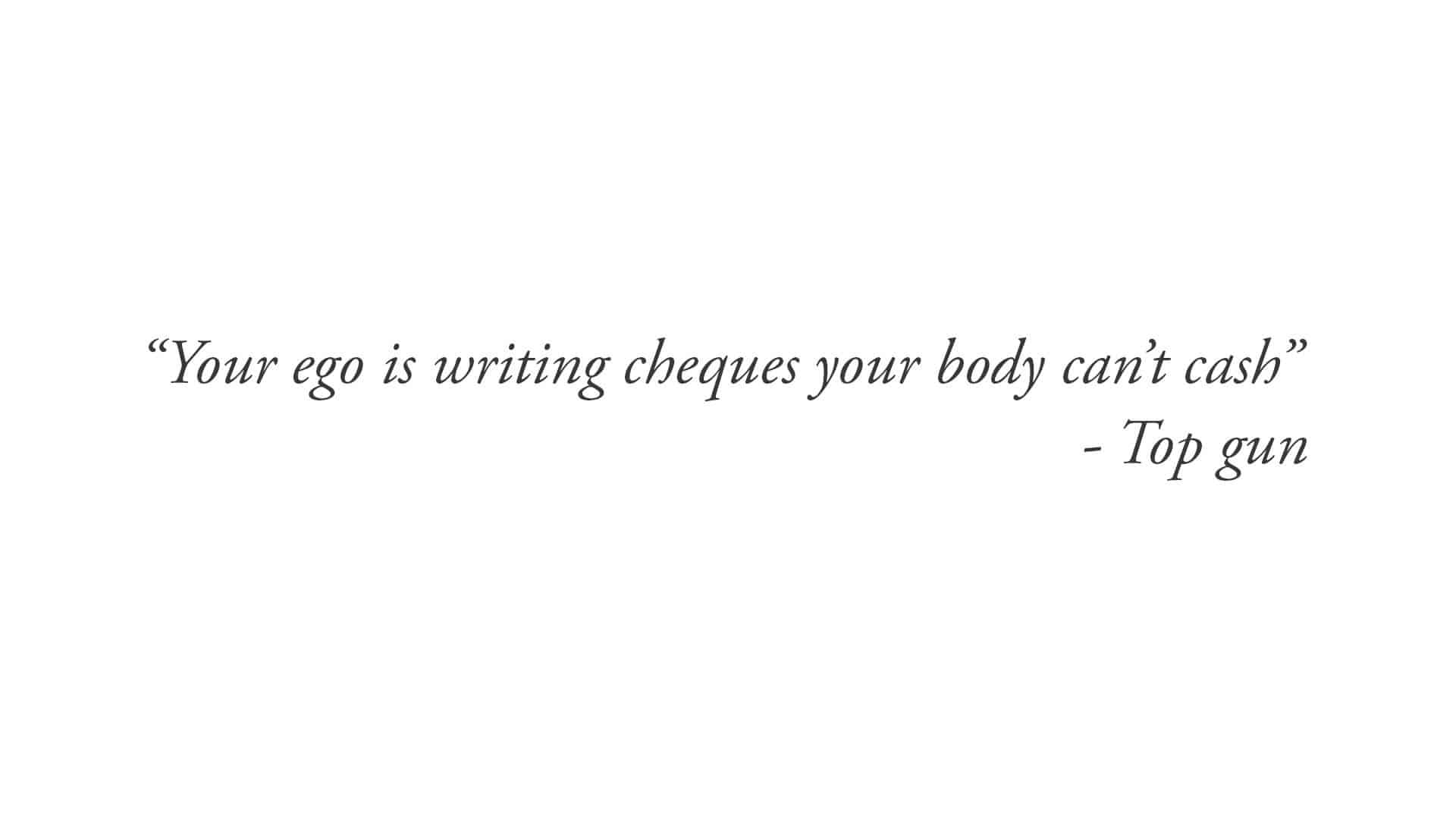 Well, now not exactly that. But yes. A lot of brands and companies that jump onto the lead generation bandwagon do so without any preparation. This leads to poor results and then a distrust customers begin to have with you as well as you begin to have with lead generation or digital advertising as a whole. Get your house sorted before your invite the guests.
If you're about to start investing big bucks in your lead generation campaign. Stop. First, ensure the following:
A. A well-trained Sales calling team
Do you have a sales calling or customer executive team sufficient enough to handle the inflow of leads? Can they connect with each of your leads immediately? Are they trained to field the queries and upsell/cross-sell or take the purchase to the next stage? (site visit, info session, etc). A well-trained customer executive team ensures the money invested in digital marketing isn't wasted and makes the most out of it.
B. Tracking codes.
While this is the job of your agency/marketing firm, it's extremely important to not be missed. Ensure all the tracking codes for your campaign are installed and tested beforehand. This helps you know which campaign is bringing in the leads and at what costs.
E.g. Is Facebook working better than google? Is the particular influencer you collaborated with bringing in better quality leads? All these questions can be answered with efficient tracking.
C. CRM Software.
As you scale up your operations and media budgets you will realize that depending on sheets to store customer information and manually making records or comments against leads received is a bad idea.
To scale, you need speed and seamlessness. CRM (customer relationship management) software solves these problems for you. Let your ads platform connect to your CRM directly. Leads flow into the system and are assigned to callers. You can receive real-time or end-of-day reports to know the status. Let's dive a little deeper into CRM in the next segment.
8. Why is it important to have good CRM software before you start a lead generation exercise?
CRM software record, track, and analyze a lead once it enters your system. A good CRM software uses data analysis and visualization for regular reporting and to help the brand make intelligent marketing decisions as well.
For now, when you intend to create a large-scale lead generation campaign, ensure you have good CRM software in place. There are tons of companies that provide this. If you're in India, we recommend Zoho CRM to our clients as we've seen easy integration, extremely low cost, and great customer service as well.
A good CRM software helps with and is not limited to the following:
Seamless integration with your marketing platform. E.g. Connect your Meta (Facebook & Instagram) forms for a direct inflow of leads in your system
Seamless integration with your website. E.g Connect all your website forms for a direct inflow of leads in your system.
Aiding in sales: Assign leads automatically or immediately to your sales callers. You can track the performance of the caller as well.
A 360 view of your customer. Understand where your customer came from and where they are in the sales lifecycle.
E.g In real estate: Has the lead visited the site yet? Have they dropped off after the first call? Are they finding the price too high?
A 360 view helps you design campaigns accordingly to remarket. To explain the above with a real Admatazz case study: We analyzed CRM data for a client in the automobile industry we generate leads for. We studied data of leads who came into the showroom for a test drive and then dropped off. While that data is usually discarded as Not interested anymore. We delved into details and realized that a good share of the drop-offs are because of financial reasons. Thus, we formed a bucket of data and remarketed to them with a campaign talking about EMI options, low maintenance costs, and seasonal offers. This resulted in new interest as well as sales from a data bucket that was declared dead.
CRM software has various solutions and can help in marketing to existing customers as well, however, that's for another day.
9. What should you expect from your agency when they're running a lead generation campaign?
As digital marketing and agencies have evolved over the years, lead generation has become an extremely precise science.
When you engage with an agency or consultancy for a lead generation campaign, you can expect the following:
A. Analysis.
An audit or an analysis has to be of 2 kinds:
a. Marketing data.
A quick analysis of what worked, and what didn't. Even if you have not done a lead generation campaign before, it's important for your agency to find out how your other campaigns performed, what type of audience sets responded best, and which ones were the least effective. Apart from the past data, the current search data is also an important segment to analyze. Which keywords are bringing in organic traffic, and which high-intent keywords is the brand not ranking for. This analysis helps the agency team make important and calculated assumptions before they begin their campaign.
b. Economics of the business
What is the final price? What is the offline cost per acquisition? For every 100 leads generated how many do they expect will convert into customers?
This analysis is extremely important as it helps the media buyers set up limits on the cost per lead and bid for keywords accordingly.
B. Pre-Campaign setup by UX and Tech team.
Before the campaign is set up the agency creates landing pages with great experience that persuade the user to fill up the form. Usually, a campaign has multiple ad sets and a different landing page should be used for each.
E.g. You're a real estate brand and your project sells 2BHKs and 4 BHKs in Mumbai. A real estate digital marketing agency will create two ad sets targeting different audiences and each set has a landing page that talks primarily about either the 2 or the 4 bhk. This avoids confusion and encourages the user to fill up the form.
Apart from the landing pages, the tech team ensures the following are in place before the campaign begins:
– Tracking codes – We recommend through google tag manager all tracking codes be put in place. This helps remarket as well as track conversions effectively.
– Heatmap analysis code – Ensure you embed a heatmap code to analyze user behavior on the landing pages regularly.
– Integration with CRM or Sheets – Ensure the backend of the platform is connected to your CRM software or even google/excel sheets. This means your leads should flow into the system seamlessly as opposed to you downloading them every few hours in the backend.
C. Creative setup.
You can expect the agency's creative team to study the data and create content/creatives for the campaign as per the proposition being offered and the formats most suitable. Usually, an ad set has multiple creatives for AB testing, in multiple formats.
E.g Reels may work on Instagram now more than static.
D. Reporting
You can't manage what you can't measure.
Reporting is an extremely important faction of any kind of performance media campaign. At Admatazz, we encourage weekly tracking, bi-monthly analysis, and major changes to a campaign based on 1 full month's report.
Ideally, a lead generation campaign should have the following metrics tracked regularly:
– Platform-wise Cost per lead and Volume of leads.
– Click-through rate per ad set/group.
– Validity of leads platform-wise. (to track junk leads)
Let us take you through how we address a project at Admatazz.
We have a 3 step process for how we approach any project. Lead generation campaigns included.
Step 1: Identify your goals
E.g. What kind of leads do you need?
Step 2: Frame the problem
e.g. Low quality leads? Low awareness and trust? Low Conversion rate on landing pages?
Step 3: Detail out a scope
E.g. UX, Media buying and planning, affiliate marketing, static+video creatives, etc.
10. Learnings and case studies from Admatazz's experience in lead generation
As a digital marketing agency with over 6+ years of experience, we have managed Lead generation campaigns for 60+ clients from industries such as Education & Edutech, Automobile, Real Estate, Jewellery, Pharma & Healthcare, Publishing houses, BFSI, Software, and also a host of B2B players in India and internationally.
With over 6 years and millions of leads generated our experience has shaped into razor-sharp expertise when it comes to all digital platforms, including Facebook, Instagram, Google (search, display, youtube), Quora, LinkedIn, Programmatic platforms, and other new media platforms as well.
While our learnings are a great deal and this article would go on for another 10 pages, the key highlights that we feel every brand seeking lead generation activity or a digital marketing agency for lead generation should know about.
A. Creatives and Copy are key.
Ensure you have studied the intent of the potential lead thoroughly and are also aware of the industry practices. E.g Real estate creatives are highly regulated with disclaimers that always need to be mentioned. Find out what format works best for you. E.g We have found maximum results in real estate with Carousel and Reels.
B. Always look for secondary markets.
It can considerably reduce your CPL. Let's illustrate this with an example:
A majority of the leads come in from the local geographical radius however an important market that is often overlooked is the potential investors. NRI's, HNI's, etc are always looking at property as an asset class for investment. Identify the same and use search+social+programmatic to reach out to them as well.
C. Don't limit your audience to the ones platforms provide you only.
Tie up with data management platforms that can push specific audiences to your DSP or ads manager and help you eliminate redundant targeting and eventually reduce cost per lead.
D. Create a strong CRM system.
We've mentioned this in the article above and reiterate: CRM will aid in lead closure and timely feedback. This will ensure a lower cost per conversion. Often businesses abandon lead generation programs in the middle citing low conversions or responses as an excuse whereas the major gap lies in the callbacks and overall CRM.
Use a reputed CRM system. Each industry has its own however as we've mentioned you could also use popular software such as Zoho (link) or Hubspot (link).
E. Monitor your CPL daily but don't try to optimize your campaigns every day/alternate day.
Some days you may notice a higher CPL than usual, don't edit your targeting or creative based on that one day. Give your campaigns two weeks (at least) to optimize themselves. The same goes for the other end of the cost spectrum. If you find your campaign delivering great results at a lower-than-expected CPL, don't shower it with all your pending budgets. Let the campaign stabilize and keep adding 10% to the daily budget cap, week after week.
We hope this article helped. Lead generation is one of the best things to come out of the digital marketing revolution for all business sizes and we strive to get all our clients and partner brands to take complete advantage of it.
As an integrated marketing agency with digital at its core we provide the entire stack of services to our clients to create a fool-proof lead generation strategy. From creatives to precision media buying and planning, UX design, and even implementation assistance with CRM software.
Is your brand/business seeking a digital marketing agency for lead generation and you'd like to connect with our team for a consult?
Before you fill up the form, we request you check the prerequisites below:
Does your business have a:
Fully functional website/microsite, (if not and you're looking for us to create one connect with our UI/UX team here)
A ready product/brand/service that is already selling or about to sell in the market
A sales calling team hired or almost ready to hire.
A minimum budget of INR 6 lacs or 7,000/- USD per quarter